Sidebar
Where Can I Buy the 12v Gator Peg Perego Ride On Kids Tractor?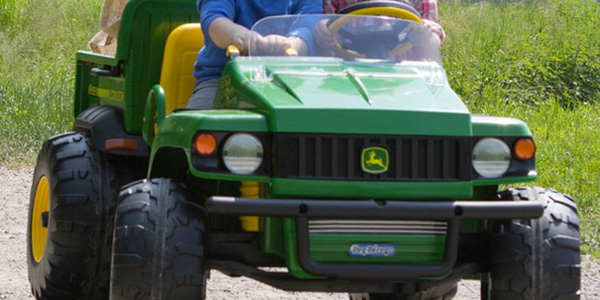 The John Deere 12v Gator Two Seater Tractor is a seriously fun two seater 12v Tractor from makers Peg Perego. One of our most popular two seater tractors, it is jam packed with features making this a top outdoor toy. Sturdy and easy to drive, the 12v Gator Peg Perego Luxury Ride On Kids Tractor comes complete with rechargeable battery, so you're ready to explore the outdoors. The Kids Peg Perego John Deere 12v Ride On Gator comes with an amazing tipping bed that is perfect for loading bits and bobs and even taking a snack for your adventure. With a 10kg load limit you can take plenty of sandwiches!
This Kids Official John Deere Gator Tractor also comes with an electric horn and super chunk tyres to master those bumps. The John Deere Gator is easy to drive with 2 forward gars and one reverse. You have an accelerator and brake in a single pedal to make it even easier. There is an adjustable seat to accommodate for your child's growth making it an ideal gift for 3+ years.
The 12v Gator Peg Perego Luxury Ride On Kids Tractor is available to order online from Peg Perego Battery Toys, an official Peg Perego stockist.