Sidebar
What is the best two seat electric ride on for kids?
John Deere is the perfect choice for a kids two seat ride on!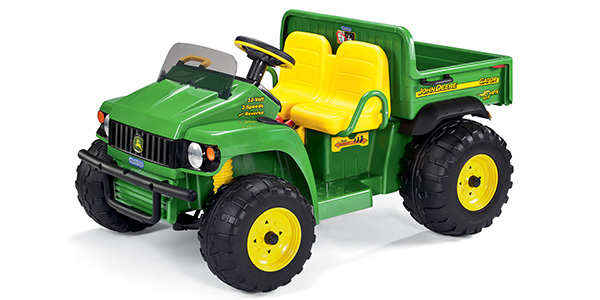 Kids love to pretend that they're down on the farm, and one of the most popular agriculturally-themed toys is a kids electric two seat ride on tractor. But with so many options available, which one is the best?
We select only the very best kids ride on vehicles, and our pick of the best two seat ride on tractor for children is the Peg Perego John Deere 2 seat Gator, which combines authentic, licensed John Deere design and branding with a trusty 12v motor that's perfect for trundling over a variety of terrain.
What sets the Peg Perego John Deere Gator apart is the attention to detail. Not only does this fantastic kids tractor feature a design based on the latest John Deere tractors, but the tipping bed on the back really works, and is able to carry and dump loads of up to 10kg. It also comes complete with a number of safety features, including a parental lock system and an innovative single-pedal operation system which ensures quick, safe stopping.
So if you've been looking for the best kids two-seater ride on tractor toy, make sure you don't miss out on this authentically-styled, expertly designed John Deere ride on tractor!